2020-2021:
Joined the Steering Committee to increase awareness of LGBTQIAP+ conversion practices and ideology in Australia. A 3-year research project by the Victorian Government and an Australian Research Council (ARC) led by Dr. Tim Jones and Dr Jennifer Power (La Trobe University) and Dr. Tiffany Jones (Macquarie University) in partnership with Australian GLBTIQ Multicultural Commission (AGMC) and Brave Network.
2020: Year of Outcomes
1: Created a private virtual Muslim GLBT+ Support Group during COVID19 on facebook. You can read the following documents regarding our group
2: Signed the SOGICE (Sexual Orientation & Gender Identity Conversion Efforts) Survivor Statement to stop the abuse, violence and forced marriages of Muslim LGBT+ persons in Australia. Support SOGICE here.
3: Monash Arts Gallery featured stories of LGBT+ persons living in the City of Monash. Photographer David Rosetzky's "Ties That Bind" project displayed my portrait and story as part everyday stories of Queer persons of Monash. Read more here.
4: In collaboration with Youth Advocacy Council (YAC) Pakistan, launched Pakistan's first Trans-Help application to support third gender persons. More information about the application here. The project included creating video content via C61 Media to launch and market Trans-Help app and spread awareness regarding HIV/AIDS prevalence in the Khwajasara community in Pakistan.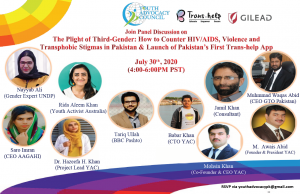 5: Joined, attended and supported the 'Better Together' conference. Was on a panel for Bisexuality. More here.
2019: Year of Friendships
1: As a worker at Wellsprings for Women, in collaboration with AGMC (Australian GLBT+ Multicultural Commission) organised the first Welcome Event for LGBT+ persons hosted by other multicultural women in the City of Dandenong.
2: Encourage, support and participate in any and all Iftaars organised by AGMC and other LGBT+ organisations in Melbourne to include interfaith gender diverse persons.
3: Volunteer as a TV host for Bent TV Show at Channel 31 Melbourne to speak about multicultural gender diverse issues and community contribution. More here.
4: Became a member of Melbourne Bisexual Network.
2018: Year of Research
Attended the Living and Loving in Diversity conference.
Contributing writer of an anthology of multicultural queer stories of a book titled; "Living and Loving in Diversity".
2017: Year of Intersectionality
Did Rainbow Connections project under Centre for Culture, Ethnicity & Health (CEH) to advocate for Multicultural LGBT+ Youth. Read more here.
In collaboration with Victorian Transcultural Mental Health (VTMH) launched an online training portal on Intersectionality to support LGBT+ persons from diverse age, culture, special needs and other 'intersecting' backgrounds. Read more about the project here.